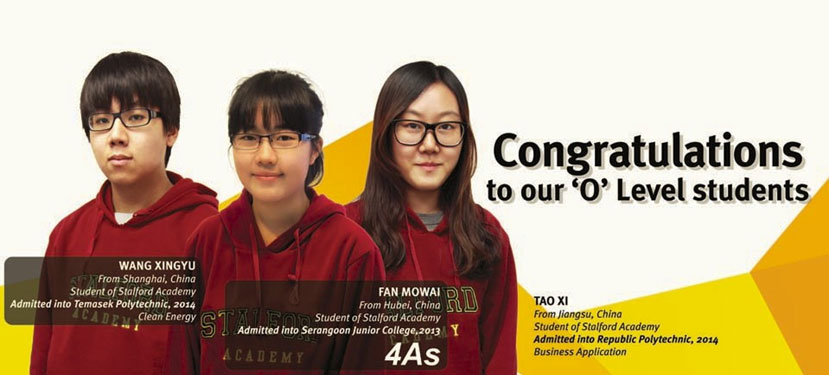 School: Stalford Academy
Course: Preparatory Course for Singapore-Cambridge GCE 'O' Level
Stalford Academy's 'O' Levels preparatory course aims to thoroughly prepare private candidates for the GCE 'O' Level Examinations, which are national level assessments jointly organized and conducted by the Singapore Examinations and Assessment Board (SEAB) and the University of Cambridge Local Examinations Syndicates.
In this preparatory program which content is aligned closely to the latest examination guidelines, students will be equipped with the concrete knowledge and necessary intellectual skills in tackling the examinations. If you are keen on achieving a robust foundation that will pave your smooth progress into post-secondary institutions, be sure that this is the right preparatory program for you.
Students who manage to attain outstanding results in the 'O' level examination could receive grants of up to 70% of polytechnic fees, on the condition they work for three years with any enterprise in Singapore. In addition, students will also be allowed to apply for permanent residency in Singapore.
Course Content
English Language
Mathematics
Additional Mathematics
Principles of Accounts
Geography
Physics
Chemistry
Attendance Criteria
All students need to attend at least 75% of classes to be eligible for a Certificate of Attendance.  Student Pass holders are required to maintain an attendance of 90% and above to meet the Immigration and Checkpoints Authority requirement.
Average Teacher to Student Ratio
1:30
Mode of Delivery
Lessons are conducted in a classroom environment. Teaching methods include lecture, interactive tutorials, paired or group learning, practical science lessons, drills and other interactive activities that are in line with current best practices to support students' learning.
Assessment / Examination
Monthly progress tests are conducted as well as a Preliminary examination before the actual GCE 'O' level examination.
Educational Pathway
With SEAB GCE 'O' level certificate with 6 'O' level passes (including English Language) would enable students to meet the general academic entry requirements of many Junior Colleges, Polytechnics, Institute of Technical Education, Diploma, and other equivalent courses not only in Singapore but also in the United Kingdom, Australia, Canada, USA, and New Zealand. Admission into these institutions is at the sole discretion of the individual institutions.
General Information
Course Duration: 12 months (Full-Time) or 24 months (Full-Time)
Course Delivery Method: Classroom Teaching
Lesson Hours: Mondays to Fridays, between 9am to 7pm (actual duration depends on the number of subjects taken)
Total Contact Hours: 900 contact hours for 12-month programme (5-subject package), 1,800 contact hours for 24-month programme (5-subject package)
Lesson Duration: 1.5 to 2 hours per lesson
Lesson Venue: 12 Kallang Avenue #03-11/12/13/14, Aperia, Singapore 339511
Course Content
Applicants may enroll for the following subjects*.
Core Subjects
Elective Subjects

English Language
Elementary Mathematics

Additional Mathematics
Chinese
Physics
Higher Chinese
Chemistry
Literature in Chinese
**Biology
**Principles of Accounts
Science (Physics, Chemistry)
**Geography
**Science (Physics, Biology)
**History
**Science (Chemistry, Biology)
**Combined Humanities