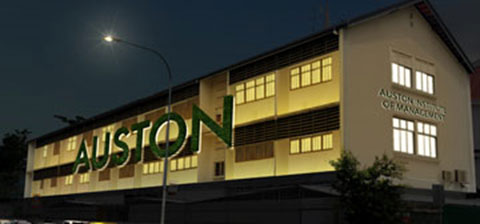 School: Auston Institute of Management
Course: Higher Diploma in Electronics Engineering 
Course Length (Study Mode)
16 Months (Full-Time)/ 24 Months (Part-Time)
Modules
12 Core Modules
Intake
Every March, June-July, October
Course Delivery
Lectures, tutorials, seminars, example workshops, outside speakers, computer-based learning packages, group discussion and presentations and student centered learning
Core Modules
Year 1:
Electrical Engineering I
Electronics Engineering
Engineering Mathematics
Digital Electronics
Communication Systems
Computer Architecture
Year 2:
Object Oriented Programming
Signals and Systems
Instrumentation and Control Engineering
Data Communications and Networking
Advanced Digital Electronics
Project
Graduation and Progression
Students will be awarded with Higher Diploma in Electronic Engineering upon completion of the programme. Graduates of the programme can then move on to pursue Bachelor's degree programmes with one of our university partners.
Birmingham City University
University of Wolverhampton
Course Summary
This course is designed to give students a firm foundation of electronic and general engineering principals upon which to build their engineering academic and professional careers.
In the 12 modules, students will cover a variety of topics from electrical engineering (before the plug), electronic engineering (from the plug onward), analogue signals, digital signals, micro-controller programming, instrumentation and controls, and more.
Professional Development Modules*
Business English (T1 & 2)
Business Communication (T3 & 4)
Introduction to Statistics
Introduction to Programming
*Full-Time students only
**The order of modules may subject to change due to availability
Entry Requirement
Candidates aged 18 years or older are eligible to enter the Higher Diploma programme with one of the following qualifications:
GCE 'A' levels
Higher NITEC
Auston Certificate
Other equivalent qualification from recognised institutions (completed 12 years of formal education)
Matured candidates with more than 2 years of relevant experience
Applicants whose first language is not English or whose previous qualification was not taught and assessed in English must provide evidence of attainment in English Language by achieving a GCE 'O' level C6, an IELTS 5.5 or an equivalent qualification.
Click here to know more about Auston Institute of Management