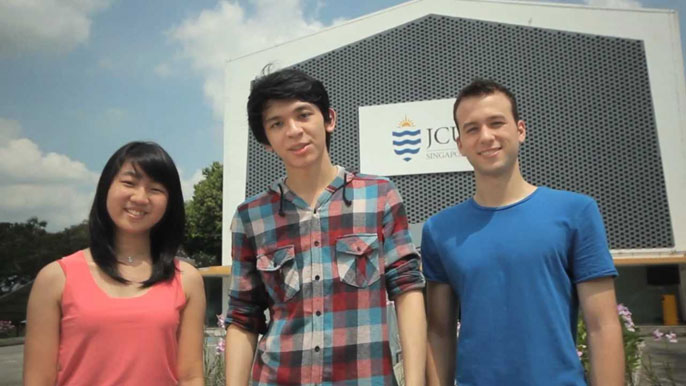 School: James Cook University Australia (Singapore Campus)
Course: Bachelor of Business (International Business)
Course Overview
With this degree you will be equipped with skills that meet the demands of business including developing communication and engagement skills, building networks, adopting a commercial mindset, understanding project management and mastering critical thinking and problem solving.
International business is a rapidly growing area of study that deals with the development and management of multinational companies. Globalisation, global commerce and the development of communication technologies mean that many businesses now operate in the international market place. An understanding of the key issues involved in operating a business internationally will give many kinds of businesses a valuable edge in the market place.
The course includes foundation subjects in the areas of accounting for decision making, economics, data analysis, customer experience, management and personal professional skills. These subjects are then complemented by specialist topics in business negotiation, operations management, cross cultural management, international marketing and international business.
The Bachelor of Business (International Business) offers choice and flexibility, with the option to combine International Business with a second major from Hospitality Management, Marketing, Management and Entrepreneurship and Tourism Management. You have an option to combine any two fields of interest from a diverse range of study areas, and you can change your choices at any time in your first year.
Start dates
March, July, November
Duration
2 years full time
Subjects
Core Subjects
Accounting for Decision Making
Economics for Sustainable Business
Business Data Analysis and Interpretation
Business, Environment and Society in the Tropics
Contemporary Business Communications
Managing Consumer Markets
Business Law
plus one of the following:

Professional Internship*
Multidisciplinary Project
Independent Project

*where applicable
Major Subjects
Financial Management
Business Negotiation
Operations Management
Research and Decision Making for Business
Multinational Business Finance
Cross Cultural Management
International Business
International Marketing
Minor Subjects (4 subjects from one of the following areas)
Accounting
Management
Marketing
Tourism Management
Financial Management
Eligibility & Requirements
Entry Requirements
The entrance requirements differ from country to country but in general applicants must have satisfactorily completed 12 years of schooling or equivalent.
Successful completion of the JCU Singapore Foundation Program will also satisfy the entrance requirement.
English Requirements
IELTS 6.0 (no component lower than 5.5)/TOEFL iBT 79 (with minimum writing score of 19) and above; or
Satisfactory completion of JCU Singapore English Language Preparatory Program (ELPP).
Students who have successfully completed 2 years of full-time study in English medium may satisfy the English Language Requirement
Advanced Standing
Advanced standing of up to 8 subjects will be granted upon successful completion of JCU Diploma of Higher Education (Business Studies) program.
Credit exemption may be granted for students with tertiary qualifications from recognised institutions on a case-by-case basis.
Attendance Requirements
International students holding a valid Student's Pass are required to attend at least 90% of scheduled classes per month. Failure to attend classes is a breach of the student visa conditions. Being absent from classes for a continuous period of seven days or more, or attendance falling below 90% without valid reasons will result in the student needing to surrender their Student's Pass for cancellation.
Domestic students must attend at least 75% of the scheduled lecture and tutorial activities to be eligible for assessment.
Career Outcomes
With this degree, you can enter the arena of international business and pursue careers in the area of export and import, foreign affairs and trade, or international business strategy and management.
Click here to know more about James Cook University Singapore Campus