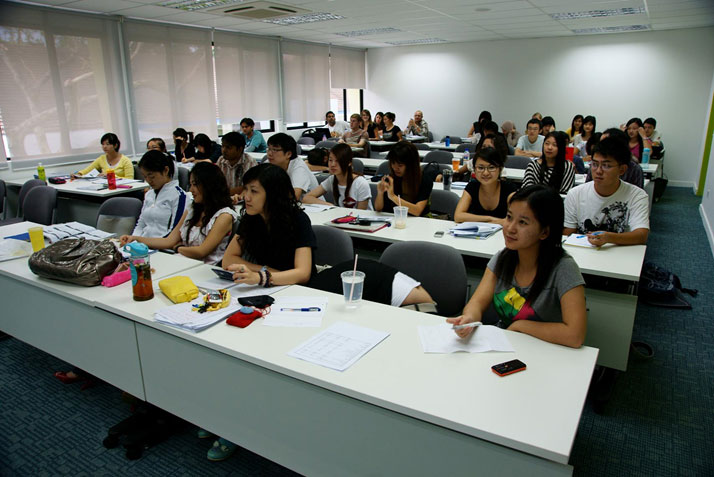 School: James Cook University Australia (Singapore Campus)
Course: Bachelor of Information Technology
Course Overview
This course brings together the knowledge and skills that are essential for professional IT careers along with subjects in interactive visualisation, games, big data and data mining, interactive 2D/3D graphics and web technologies, mobile technologies, programming and design thinking, and programming.
Bachelor of Information Technology graduates will be able to:
Demonstrate essential knowledge for a career in technology related professions and practice;
Synthesise industry standard and underlying principles and concepts for decision making;
Critically evaluate data & resources in the context or relevant academic literature;
Apply critical thinking to address IT related issues;
Demonstrate the ability to work collaboratively
This course is accredited by the Australian Computer Society (ACS). Graduates are eligible to apply to join the ACS.
As an IT student, you will be entitled to memberships with two professional bodies: The Institute of Electrical and Electronics Engineers (IEEE) and the Singapore Computer Society (SCS).
Start dates
March, July, November
Duration
2 years full time
Subjects
Course Structure
3 trimesters per year (normally 4 subjects per trimester)
Study Program
This course is composed of 24 subjects including core subjects and elective as per the study plan.
Core Subjects
Fundamentals of Problem Solving and Programming
Internet Fundamentals
Design Thinking
Programming I
Games for Business and Gamification
Web Design and Development
Information Processing and Management
Database Modelling
Collective Intelligence & Social Networks
Programming II
Information Visualisation
Design Thinking and Creative IT Industries
e-Strategic Management
Content Management Systems
Data Mining
Information Security
Design Thinking and Project Management
Mobile Computing
Professional Internship or Multi-Disciplinary Projects or Independent Project
PLUS a minor or elective subjects offered
(Students may choose a minor: 'Computer Science and Networking' or 'Human Computer Interaction and Games Design' and electives to complete the course requirements).
Eligibility Requirements
Entry Requirements
The entrance requirements differ from country to country but in general applicants must have satisfactorily completed 12 years of schooling or equivalent.
Successful completion of the JCU Singapore Foundation Program will also satisfy the entrance requirement.
English Requirements
IELTS 6.0 (no component lower than 5.5)/TOEFL iBT 79 (with minimum writing score of 19) and above; or
Satisfactory completion of JCU Singapore English Language Preparatory Program (ELPP).
Students who have successfully completed 2 years of full-time study in English medium may satisfy the English Language Requirement
Advanced Standing
Advanced standing of up to 8 subjects will be granted upon successful completion of JCU Diploma of Higher Education (Information Technology) program.
Credit exemption of up to 16 subjects may be granted for students with relevant qualifications from recognised institutions.
Attendance Requirements
International students holding a valid Student's Pass are required to attend at least 90% of scheduled classes per month. Failure to attend classes is a breach of the student visa conditions. Being absent from classes for a continuous period of seven days or more, or attendance falling below 90% without valid reasons will result in the student needing to surrender their Student's Pass for cancellation.
Domestic students must attend at least 75% of the scheduled lecture and tutorial activities to be eligible for assessment.
Career Outcomes
Graduates will have the expertise to pursue exciting careers as project manager, network administrator and designer, system analyst, software developer, application developer, IT researcher, IT manager, system administrator, multimedia developer, game designer/tester/reviewer, simulation designer, enterprise architect, consultant, story boarder, web designer, and mobile app developer.
Click here to know more about James Cook University Singapore Campus