Pre-school
Pre-school education is made up mainly of childcare centres and kindergartens, operated either by the government or private service providers. The state ensures affordable and high quality early childhood education in all such establishments, where young children are exposed to a holistic curriculum that helps nurture their character as well as build literacy and numeracy skills. Kindergartens generally offer 2-year programmes, with some also providing full-day care for pupils who require such a service.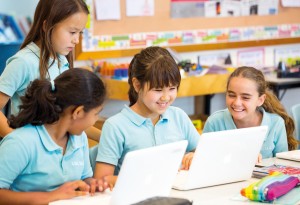 Primary
Primary education in Singapore takes place over 6 years, of which four are spent on the foundation stage and another 2 for the orientation stage. Strong emphasis is placed on the acquiring of skills in English, Mother Tongue and Mathematics. The adoption of subject-based banding allows students to capitalise on their own strengths by combining a mix of standard and foundation subjects. Other than classroom lessons, pupils even at this early stage are encouraged to actively participate in co-curricular activities (CCA) and community involvement programmes. The Primary Six Leaving Examinations (PSLE) taken at Primary Six will assess the pupil's performance and determine his options for secondary education.
Secondary
Secondary education may last from 4 to 5 years depending on the student's performance in the PSLE. Students may be placed in the Express, Normal (Academic) or Normal (Technical) streams, depending on which best suits their individual capabilities. At the end of their stay in secondary school, students will have to take either the GCE 'O' Level if they are in the express course or GCE 'N' Level Examinations for the normal course. Participation in a CCA during secondary school days is important because it would be taken into account when a student applies for admisson to a post-secondary institution.
Post-Secondary
Depending on the performance of a student in the GCE examinations and his future career plans, a few different pathways are available for post-secondary examination. The Institute of Technical Education offers industry relevant technical training that equips a student to find employment immediately upon graduation. The Polytechnics are a training ground to produce practice-oriented professionals in a wide range of discplines, ready to take on mid-level positions in their respective industries. Pre-university centres and junior colleges are most suited for those planning to go on to an university, as they offer academic programmes tailored towards university entrance.
University
A typcial university education can last 3 to 4 years depending on the chosen discipline and leads to the conferring of a Bachelor degree upon successful completion of an undergraduate course. An Honours degree can usually be secured with an one year extension of a basic degree course. A few more specialised disciplines, for example Architecture or Medicine, may take much longer to complete as threy require lengthy internships. After receiving a basic degree, a graduate may opt to further pursue a Masters degree and thereafter a PhD.